Testimonials
I have had great HEALING RESULTS FROM BOTH DR RICHARD AND DR CAROL, they have both given me valuable ADVICE ON HOW TO HELP MYSELF HEAL. I HIGHLY RECOMMEND THEM - Alberta

After 4 sessions Dr. Loechinger solved one of my issues and then realized that I need to see a surgeon. He then gave me a referral to one of the best groups. He could have stretched out the number of visits, but didn't, Richard is a class act. -Robert

I started using Bug Bouncer early this summer because I am one who gets numerous bite just by walking outside. We live in the country and are surrounded by woods. Summer is my favorite season and I love to garden. I have used natural bug repellents in the past, but I've never found one that doesn't have to be repeated every hour or so, and then the bugs will find the one spot that the repellent didn't reach. Although I've had success with many homeopathic remedies, I was skeptical about Bug Bouncer but I am amazed at how well it works. I've been able to go about my gardening and sit at the pool with no bites. I've been faithfully using it twice a day, and will continue to do so until the weather changes. I recommend Bug Bouncer to anyone who, like me, suffers from summer bug bites. This stuff works! - Lori Kelch

I know that "DRY NEEDLING" works. It has worked for me and my husband, also. I encourage anyone who has pain to try it. It definitely will help you.-S.P., R.N.

After suffering for months with tendonitis in my left shoulder, Dr. Loechinger suggested dry needling. I had four treatments, which were painless and my pain went from 8-10 down to 0-1. My last treatment was 3 months ago. So far, so good. I've had no pain while playing golf.-P.C.

The reason I actually went to see Dr. Carol Loechinger a few years ago was to help my son address some nutritional deficits that were preventing him from taking his athletic career to the next level. Dr. Carol was successful with helping him that he truly did go on to achieve the highest level in his sport! My Primary Physician who referred my son to Dr. Carol had been encouraging me to see her for my chronic Lyme Disease and interstitial cystitis. I had been to specialist after specialist who pretty much said "this is just the way it is and you will need to learn to live with it." By the time I visited her for my issues, I was exhausted, in pain and very frustrated. I am happy to say that today I feel more like myself than I have in YEARS. Her treatment using homeopathics helped my own immune system to kick into gear and start to fight again. She is also seeing my daughter who has PANDAS and we are seeing positive results there, too. Dr. Carol has literally given me my life back. I am hopeful and confident that I will continue to improve (and my daughter, too). We are blessed to have such a gifted practitioner who truly cares about her patients and their quality of life right in our own backyard.-E.K.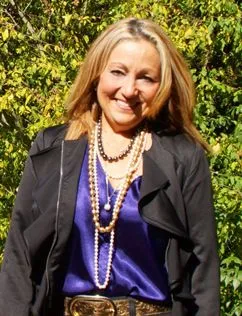 Drs. Richard and Carol Loechinger have given me a new start on life. I started with them at the referral of a friend for my horrible migraines. When I started I weighed 182 lbs and was having migraines three times a week. Dr. Richard did an x-ray and said I had terrible whiplash from a car accident. He said he could fix my neck in five visits. And he did this. I have never had this much relief from any doctor with my headaches. But he helped me almost immediately, and I have been more pain free for the last six months than I have been in 30 years. This is the greatest blessing I have had in my life, to be pain free.

But they didn't stop there. I had also broken my foot in my accident, which benched me from my daily exercise routine, and my father had died in the same year. My weight ballooned up to 182 lbs. and I was miserable, both physically and emotionally. Dr. Richard suggested I talk to

Dr. Carol about the HCG diet. They started me on a colonic and a cleansing diet. I lost 16 lbs in two weeks. Then I started the HCG diet and lost another 34 lbs in the next six weeks on the HCG diet. After stopping the HCG diet, they gave me a maintenance diet for two more weeks, and I kept losing weight. I have lost 60 lbs, and have gone from 182 and a size 16 to 122 lbs, and a size 0-2. I cannot tell you how much love I feel for Drs. Richard and Carol and their fabulous staff. Their love, support and expert Medical care have changed my life and I will never forget what they have done for me. Only you can decide to change your life, but they can help you make it happen.


Dr. Carol Loechinger

Thank you Dr. Carol Loechinger for introducing me to Standard Process supplements! I started the supplements and changed my eating habits on June 12, 2013. Then I weighed 205 pounds and now on November 11, 2013 I weigh 170 pounds. I feel great, and I am so much healthier from losing the weight and eating healthy foods. With the supplements I have not had to take any pain medication for my back, legs and feet. With Dr. Carol Loechinger's close supervision and the Standard Process supplements, I feel better than I have in years. My family is so proud of me because now I am so much more active, and I feel better about myself. They say I look great and I feel great! I have tried for years to accomplish this.

Thanks to Dr. Carol Loechinger and Standard Process products we made it happen!
Janet


Testimonial For Dr. Loechinger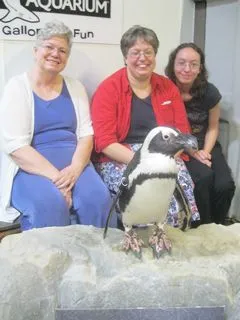 I have some bad disks in my neck that Dr. Loechinger diagnosed years ago. I was receiving regular Chiropractic treatment for them, but stopped probably 4 or so years before this when I lost my job and I just never started back. I experienced some aching and slight pain from time to time, but passed it off as stress. I had some numbness in a couple of my toes, but passed it off as just poor circulation. I have a relatively high pain threshold. So, what probably should hurt me really bad, doesn't. And, this is a time when that worked against me, because I ignored my body complaints and didn't do anything about it.

I started putting on weight a little bit before I divorced my now ex-husband, years ago. We divorced in 1995. I enjoyed eating, particularly sweet, sugary stuff. By that time, I wasn't really exercising much if at all. And, as I continued to turn to food for enjoyment and pleasure, my weight increased. I was busy working at a fairly stressful job and I really didn't care much about my weight; except of course, when I had to buy clothes and it was hard to find things that looked nice and fit properly. But, Chico's turned out to be a good find and I just went there. As I put on more weight and continued to eat what I wanted, when I wanted, I developed type 2 Diabetes. But, I took my pill at night and pretended that I didn't have a problem during the day. I continued my eating. I used no self discipline whatsoever when it came to food. And, I did NOT want to change!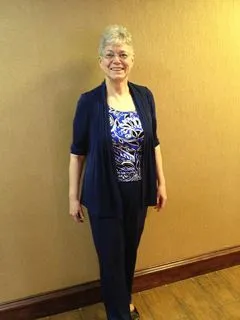 I was working in Virginia, October, 2012, when I started to experience neck and back pain. I called Dr. Loechinger's office at home and got a referral from them for a Chiropractor in Virginia. I had been seeing Dr. Loechinger on and off for about 20 years and I had no Idea what to look for as far as finding someone to treat my pain. So, I called Dr. Loechinger's office, they suggest Dr. Frey, and I went to him.

I had not seen a chiropractor in years. So, my neck and back hurt constantly from the problem I was having and due to the adjustments. I wasn't sleeping well, either! One day, I almost quit my job because I just felt like I couldn't concentrate and my body wasn't co-operating at all!

There was a massage therapist that worked out of the Chiropractic office. I was getting a massage one day and as the therapist was massaging my shoulder, I felt pain just below my shoulder blade. I asked him what it was and he said it was the Rhomboid muscles. They connect the spine to the shoulder blades. That was when I realized that I wasn't going to really get better until I strengthened my supporting back muscles. So, Dr. Frey referred me to a personal trainer.

As I worked out with my trainer, he asked about my diet and I was emphatic that I ate fairly healthy and we were NOT going to change my diet! I told him once that I really like chocolate milk and if that's going to kill me, well, everyone dies sometime! He respected my diet choices and the workouts continued.

I observed that I had an irregular heartbeat there at the beginning. I don't sit around and take my pulse, so it was a new thing to me. Then, I had an experience where I exercised with Damien at the fitness center, but I didn't remember leaving, starting the car…My memories started again when I was driving down a street that I didn't know where exactly I was. I knew I was in Virginia for work. I got out my Tom Tom and used it to return to the hotel. I took my bath and carried on like nothing had happened. I didn't want to end up in the hospital or something there in Virginia. So, I made arrangements to go home and see my nurse practitioner at home. I was referred to a Cardiologist, who reassured me that my heart is fine. I just have premature atrial contractions at times and it is a benign condition.

I returned to work and to my treatment and exercise program in Virginia. I had another episode of memory loss and did end up going from the hotel to the hospital by ambulance after a Friday morning workout at the hotel. I was kept over the weekend for testing. They checked out my head, thoroughly, and didn't find anything! Actually, they did find that one of my vertebral arteries is narrow and tortuous. The other one looks good and I should experience no problems, but I need to avoid sudden high impact neck adjustments. Dr. Loechinger is certified in the use of and uses the Impulse IQ to make adjustments these days, so it isn't a problem. Due to my age, sex, the PAC's, and the vertebral artery condition, I take a baby aspirin every morning.

I became more aware of the messages that I told myself, self talk. I started to identify the "Lies" that I tell myself. I am a person that really doesn't lie. But, we all tell ourselves little (sometimes big) lies, sometimes. The psychological term is "rationalization". And, this is when I started to be aware and identify the lies so I could replace them with the truth.

My work contract ended in Virginia ended kind of suddenly. We all expected that I was going to be extended and I wasn't. So, the time to go home came kind of suddenly and I had no plan and I wasn't ready to exercise on my own. My trainer said he would follow me on Skype. This is absolutely perfect for my job and travel situation.

Just before coming home, I emailed Dr. Loechinger. As I said before, I have been a patient of his for a number of years, probably 20 or so years. But, I just dropped out oftreatment and that's why I got into trouble with my neck and back in the first place. So, I sent him an email about how I was going to be a good patient and listen to what he recommends and follow-up as he recommends. He has a doctorate in Naturopathic medicine in addition to his chiropractic degree. I admitted that my diet had some problems and sent him information about what I ate, because I knew he would want that.

Then, per his request, I made 2 appointments with him; one for chiropractic and one for naturopathic. I filled out a symptom assessment form he uses and the "fun" began. He went over the assessment with me and prescribed the supplements he wanted me to take. He told me that I really ate a pretty healthy diet and he "just had a couple of suggestions" for me. He said that I really needed to drink ½ my weight, in ounces, of water every day (90-95 oz. I heard 90 oz.). (My trainer had told me that, but I didn't listen.) He said I ate too many carbohydrates and to keep track of what I ate for him to review next visit. And, he asked me to consider a cleanse diet in January.

When I went to my next appointment, and brought in my diet record, he marked it all up with a fat, red, felt pen. After, I brought in my diet record for him to mark up with his fat red felt pen a couple of times (he knows me well!), I asked him to just tell me what the carb limit was that he was wanting. I asked and yes, I said I would listen and follow-up…so that's when he "suggested" that I try the 2 shakes a day and limit my carbs to 100/day for about 3 weeks. Oh, and eat an apple every day, eat the whole thing, seeds and all but the stem. And, I thought "How hard can it be? Just give me the information and I will comply for this short time and it will be done! I will have followed through on my "promise" to listen to his recommendations, etc.! I was just tired of the whole thing.

Dr. Loechinger insisted on explaining the physiology and the why behind everything to me…"because I am a nurse and should know." I felt like I had been "pinned to the wall" or caged and there was no way out! He was correct. And, I could no longer just ignore my physical condition. And, of course, my trainer supported everything Dr. Loechinger suggested. So, I ended up on a hard, difficult diet (for me) and it has lasted a lot longer than 3 weeks!

When I started this, I did NOT, particularly, want to lose weight. If it just happened, it would be ok. But, it was NOT a goal! I was type 2 Diabetic and I took medicine every night and then pretended that I was not diabetic, like I said before! And, every time I saw Dr. Loechinger, he talked about my weight loss and my diabetes. I later realized that this weight was tied to some negative stuff with my ex-husband. So, when I ended up on this diet and these 2 men were telling me, repeatedly that I needed to lose weight,and Dr. Loechinger was mentioning my diabetes every time I saw him. I wasn't very happy and I needed to address some personal issues. To say that I did NOT do well with this diet would be an understatement! I hated it! The shakes tasted nasty and the stevia he gave me didn't do anything to help (it was a liquid kind and I tasted the alcohol in it). I absolutely could NOT tolerate shakes at breakfast and at noon. But, with every complaint and problem I had, Dr. Loechinger would listen and work out some way to work around the problem. We found some stevia that I liked. We moved the noon shake to dinner. Then, after awhile, I got so tired of feeling so full, like I just couldn't swallow another thing, all the time! I finally just quit eating altogether one Saturday afternoon. All did was drink water. I didn't eat until Wednesday morning. I saw Dr.Loechinger on Tuesday morning and he cut the amount of berries in my shakes to ½ cup instead of 1 cup. I wanted him to decrease the protein powder, but he wouldn't do that. He helped me deal a weak, shaky feeling that I got during and after exercising.

I got so constipated! I was using so many carbs a day on the shakes, the apple, prunes, and fiber laxative that I couldn't afford the carbs for grains or bread! And, plain vegetables got to be really boring. And, taking a blender, fixing all these shakes, planning what I can/will eat, and fixing it in the microwave in a hotel is NOT easy. Everyone at these go live things is eating candy and cookies and sweet rolls and…

I telephoned Dr. Loechinger and he prescribed me a supplement/stool softener to use (and arranged for it to be mailed to me) and I was able to take the carbs from the prunes and fiber supplement and have the carbs for some bread and nuts and grains. That did help a lot! Then, I started having muscle cramps and Dr. Loechinger helped with supplements and helped me titrate them to manage the problem. Every time a new problem, difficulty, or symptom arose, he listened and came up with a workable solution.

So, now for the results: My diabetes has been totally resolved. I weigh less than (I hope, I haven't been able to weigh here) 145 - 147 lbs. I started at 200 lbs. I can reach my feet to cut my toenails. I have a lot more energy and I really like the way I look in my completely new wardrobe! I sleep well. I am no longer having pain in my neck and back. And, I got to thinking a few weeks ago that I really wanted a Diet Mountain Dew (my soda & caffeine of choice), so I bought a bottle at the airport. And, I didn't like it. Also, an apple with a little cinnamon and a little stevia, heated in the microwave is a good tasty, sweet treat! And, I like Dante's 98% Dark Bittersweet Chocolate W/ Stevia (available from Amazon) is good! My sense of taste has changed. I didn't think that was possible!

Would I do it again? Has it been worth it? YES!!!!! Absolutely! I like to hope I wouldn't fight it all so hard and I would be a little easier to deal with, but knowing what I know now, I wouldn't hesitate for a second!

Will I continue? I still think that without someone to keep me on track, I would quit over time. I think I definitely could probably over do it on cake and ice cream or those chocolate chip cookies… But, my sense of taste has been re-educated, so to speak, and changed. Dr. Loechinger is there for me. I can call the office and talk with him on the phone when I am not in town. I know that I need to continue maintenance care for my neck and back so I don't get into trouble again. Dr. Loechinger will use those opportunities to monitor how I am doing with my weight. And, he has helped me develop a good understanding of how to transition to a more "normal" diet, how to monitor my weight, and how to adjust my diet if I should start to gain again. I feel confident that with Dr. Loechinger's help, reassurance, and support, I will be okay.


Doctors

I can't thanks Dr. Carol Loechinger and Dr. Richard Loechinger enough for "getting me over a hurdle" I've Battle all my life!!

Dr. Carol has brilliantly guided me through weight loss I've tried to accomplished for years...She will encourager and motivate you all along your journey!! She took the time to determine why i was having trouble with the weight loss over the years, evaluating my "body type" and what it takes to "feed it correctly"!!

I have learned to choose the proper foods combined with suppliments prescrided by Dr. Carol Loechinger which has enhanced not only my appetite control but also my energy level as well.

When i don't follow the "program" i just don't feel good, physically or emotionally and i KNOW IT!!

I started under the care of Dr. Carol in September and by Christmas i lost over 20 pounds and went into the Holidays

I am feeling confident and so pleased. If i pick up a few punds i can readily rid of them by getting back to the delicius SHAKES of fresh veggies and berries and the added PROTIEN.

I highly revommend DR. CAROL LOECHINGER if you want the perfect counselor for your healthy weight loss needs!! SHE'S THE BEST!!

Jane
Centerville, Ohio


Loechinger Chiropractic Clinic